As of Friday 20th March 2020 - COURSES HAVE NOW BEEN CANCELLED UNTIL FURTHER NOTICE DUE TO THE COVID-19 virus.
Please select one of the other Options on your Conditional Offer letter.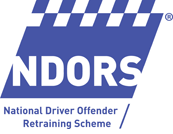 National Road Safety Courses
We provide the following NDORS courses.
Speed Awareness
Safe & Considerate Driving
RIDE
What's Driving Us
Motorway Awareness
If you were referred by the police for one of these courses, please start your booking on the NDORS Offer Portal.